PUPPY ENQUIRY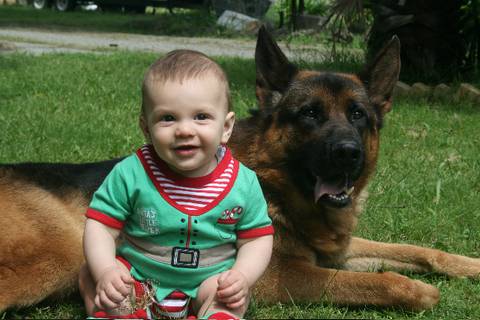 Photo above of Lawine Romulus (Chase) & Ryan
Thank you for your enquiry regarding Lawine German Shepherd Dogs.
IF INTERESTED IN ONE OF OUR PUPPIES, PLEASE COMPLETE THE PUPPY ENQUIRY BELOW OR RING DENISE for further information.
** TO SECURE YOUR PUPPY A NON-REFUNDABLE DEPOSIT OF $300.00 IS REQUIRED.**
Our dogs and puppies are much loved family members and are raised in a home environment.

We are conscientious breeders who participate actively in the German Shepherd Dog League New South Wales.

We breed approximately one or two litters per year to produce what we believe to be quality German Shepherds that conform to the breed standard.

We take pride in our stock and always strive for the correct balance of Temperament, Soundness and Construction.

We follow the German Shepherd Dog Council of Australia breed improvement schemes for Hip & Elbow X-rays, Tattooing, Microchipping, Haemophilia Testing (only required for imported sires and sons of imported females) and Breed Survey.

When we have litters,our puppies are are available and entrusted to loving committed homes, who are looking for a special family member.

As much as possible we attempt to evaluate the personality of puppies by observing them during their development. We then attempt to match the appropriate puppy to his or her new family. For this reason you may not be allowed to pick your puppy from an entire litter. After an extensive inquiry into your life style and home arrangements, you may be given two or three puppies to choose from. We do this to ensure the likelihood of a fulfilling and rewarding relationship with your new puppy.

Before any puppy leaves our home, it has been loved, cared for and socialised. Even so the puppy does not leave as a finished product. We, as breeders, have done our part; it is then up to the new family to continue with the puppy's development. The new family bears a very great responsibility to continue the puppy's development through structured training, discipline and love. To help achieve this, we ask the family to become involved in the German Shepherd Dog League training activities, which are held at branches throughout New South Wales.
Find out as much about German Shepherd Dogs by reading, by utilising the internet i.e visiting GSD websites, going to shows etc.

We make every effort to ensure that our puppies are free from inherited defects, by screening perspective breeding stock for those problems common to our breed. However due to complex genetic interactions and environmental factors beyond our control, we cannot guarantee that a puppy purchased from us will be free of genetic disorders. If the puppy should develop Hip/Elbow problems in the first twelve months, which render the puppy/dog incapacitated and unable to carry on a normal life, we will agree to replace the puppy with one of equal value from our next available litter, provided this is thought to be caused by defect, and not through injuries caused by accident or negligence. This must be confirmed by examination of X-ray plates by our vet, or the GSCDA's readers.
The majority of homes that our puppies go to wish to spey their pet and we fully condone that action. However, we do not recommend that you desex your pet before 12 months of age. Research has shown that by desexing too early can cause problem to the health of the animal. Our policy is to desex around 12 months of age. For more information please read the following article: www.caninesports.com/SpayNeuter.html
HAVE YOU READ "IS A GSD FOR YOU? "THIS IS RECOMMENDED BEFORE COMPLETING THE ENQUIRY FORM IF YOU HAVE NEVER OWNED A GSD BEFORE.
Our puppies are raised as part of the family, and are house reared, they are well socialised and interact with dogs and people of all ages making them very well adjusted for their next step in life - their new homes!
We provide our ongoing support and advice
Each puppy leaves our home having been -
Microchipped, Tattooed, Wormed regularly, Vaccinated and started on a Heartworm program together with a puppy pack consisting of:
Certificate of Registration
5 Generation Pedigree
Photos of Parents and paperwork
Puppy Photo CD
Puppy Raising Notes
Diet Sheet
GSD Puppy Booklet
Bag of Puppy Food (except when flown interstate)
Puppy Treats
Toy
BUYING A PUPPY IS A SERIOUS RESPONSIBILITY.
ARE YOU WILLING TO MAKE A COMMITMENT TO PROVIDING CARE AND LOVE FOR THE LIFE OF THIS DOG?
IF THE ANSWER IS NO -
THEN YOU SHOULD RECONSIDER YOUR DESIRE TO PURCHASE A PUPPY.
We would like to thank you for taking the time to fill in this questionnaire. The idea behind these questions is that, knowing the pup's temperament from day one, we may see different things in them than you, as a stranger attempting to pick one, would. In this way we may be better able to guide you toward a puppy which realistically suits your experience, needs and goals.
Thank you for considering a Lawine Puppy
Lawine Kennels is committed to providing assistance and loving care to every puppy we produce.
We welcome each puppy purchaser to the Lawine family and will try to make your experience with us positively memorable.